The course will only be offered at the Beta price for a limited time.
As a Beta test student for a one time fee of $147, you will receive:
* Four weekly video lessons with worksheets to help you to create:
* A call-to-action for your About Page that will take your reader to the next step toward actually becoming your customer.
* A featured graphic for your About Page that will grab your reader's attention within the first few seconds of viewing the page.
* A timeline graphic for your About Page that will visually breakdown the history of your business and credentials, without the long, drawn out life history.
* An about video for your About Page that will give your reader the face to face interaction that's often lost when your business lives online.
* A complete resource PDF file, so that you can use all of the tech pieces I've found and love to share with friends, when you create your own About Page.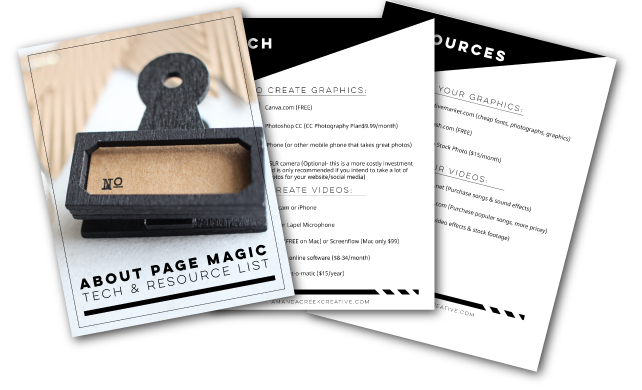 * Two live group-calls with me! I can't wait to help you with your questions and help you to take action on your page, and you will have the chance to help form how this course will develop too.
* A private Facebook Group, where we will have weekly check-ins, one bonus FB Live call from me to answer your questions and add additional info, as well as an opportunity for you to share your About Page with the rest of the group for personal feedback.
* Your "Did I make the most of my 5 minutes?" About Page checklist.
* If there is enough interest, you will all have first access (with a discount too!) to my very own favorite copywriting expert, Kris (With a K) from With a K Writing Academy, to help you find the words to go with your new beautiful page.
When the class relaunches, in the Fall, you'll gain access to all of the new premium features without further charge.
* Case studies showing examples how to effectively create each visual piece of your About Page (you could even get a chance to be one of these and have your page highlighted for all future students).
* Bonus videos - including how to use a visual drag and drop builder in WordPress to create a layout that you love.
* Even more videos and printable worksheets to make your About Page stand out.